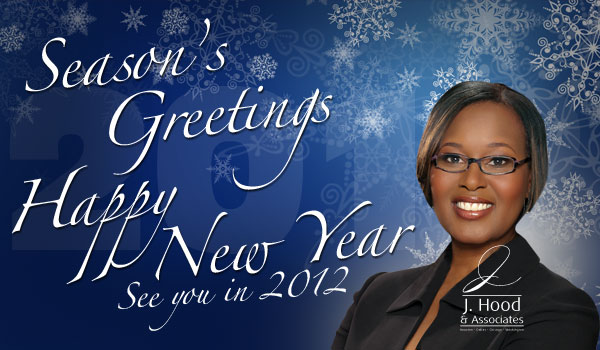 Home for the Holidays: Help, Hope, & Healing Series
It is amazing how in everyday life we have the opportunity to make change or make a difference. It is our humanitarian duty and our Christian concern to care for others and our own personal welfare. In no small dose do we spend much of our time trying to please others, do what we are told, and follow a path that leads to achieving someone else's dream for us. Every morning when I wake I am fully aware that I have just been blessed to see another day. Yes, a day I have never seen before and one that I will never have an opportunity to see again. So what do you do with a day like this one? Too often we do what we have always done. Wake up. Do the home routine. Go to work. Do the after work routine. Go home. Do the home routine. Our cycle is one with no creativity. In my book "Fulfilled! The Art and Joy of Balanced Living", The Law of Creativity speaks to breaking routines, habits, and cycles that limit and hinder our growth. Sometimes a reveal is you coming to terms with your own reality.
Have you not been able to do what you wanted? Or become what you believe you were intended? If so, you are not alone. Billions of people have been pressed and molded into what others wanted them to become. But, that is not the way of God. Our ability to be creative comes from following the natural and spiritually given bent that God has placed within us. Our creativity is our willingness to follow God and use the gifts we have been given. Out of your past, when you let God in, you will see how to use all of your life experiences to lead toward a brighter, more fulfilling future.
1. Be ambitious – There is nothing wrong with seeking the greater good for your life. Our ambitions should cause us to lead a life that enhances, and enriches others, rather than hinder or destroy everything in our path.
2. Be cooperative – Our attitude about what it takes to be successful must be in line with what it takes to actually accomplish each task, required to be successful.
3. Be responsive – When it is time to do your part, come running with enthusiasm. We must do our fair share, as well as, take ownership for the role we play in our lives and in the lives of others.
These are characteristics that are needed to move your life forward. When you reach a level of reveal that enhances your own being; then you are ready to take steps toward changing your future for the better. No matter where you have been or what you have done, when your creativity flows, when your vulnerability shows. I have long since ceased being embarrassed about the happenings in my life. I understand and accept that where my past ends, my transparency begins. And, it is here that my reveals elevate me to new heights.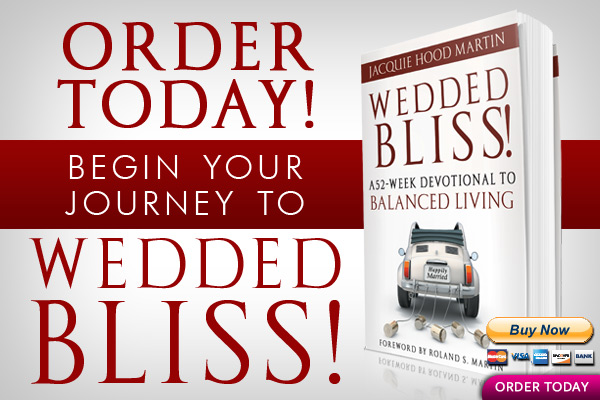 Nothing worth gaining or maintaining has ever come easy. So for the next 52-weeks you will be engaged in practices of reading, writing, and reflecting. And yes, at times the dreaded application of what you are learning. Each day for 45 weeks you will be guided by spiritual words of meditation to help facilitate a new perspective toward love and marriage. The devotionals are written to equip, enable, and empower you toward a life rooted and grounded in the Word of God.
ORDER TODAY to begin your journey to a balanced life!
2012 Leadership Retreat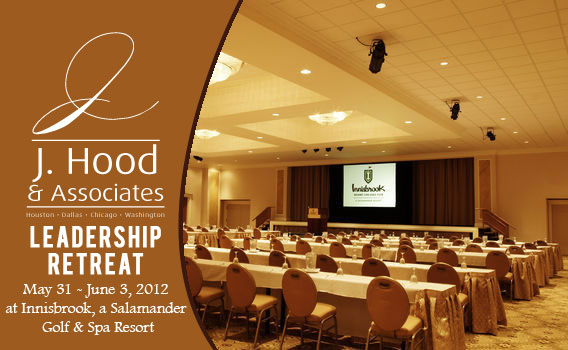 May 31-June 3, 2012, Innisbrook Golf Resort & Spa – $975 (Includes retreat registration, lodging, family activity and complimentary transportation while on property). Available are special Golf rates at 4 premier courses and special Spa package offerings at an additional, yet very special rate). Does not include airfare. Corporations are welcome to attend as part of your leadership planning/training and development for 2012.
For more information about Innisbrook Golf & Spa Resort visit http://www.innisbrookgolfresort.com/ 
REGISTER TODAY for this life changing event!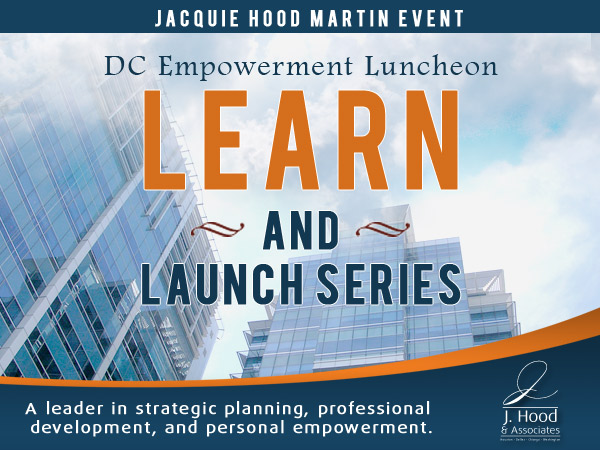 Learn & Launch Series
Our series is more than networking. "Learn & Launch" is relationship building. Building a relationship with yourself so you can take your business, work ethic, and brand to the next level. Getting to know yourself after the kids, the husband, the relationship failure, job termination, and a host of other concerns that only scratch the surface of getting you, back to you! Our monthly empowerment luncheons will give you the guidance and direction needed to restore balance in your life.
· Ever wonder why you are not getting ahead?
· Are you frustrated that your contacts are not returning your calls?
· Can you imagine yourself living a less stressful more balanced life?
· Do you think you can achieve success with your current view of what success looks like today?
· Have you lost your way and need to center and focus your goals and dreams?
The DC Empowerment "Learn & Launch" series is designed with you in mind. Men, women, collegians to corporate executives are discovering that before you leap, you must learn, and as you are learning you are uniquely and strategically positioned to launch what comes next for your life.
Reserve your space and discover truths that will ignite your passion to keep it moving! Registration includes seminar, lunch, and a gift. Cost per person $55. Group and Package rates available. On-site registration is unavailable as lunch is prepared based on accurate registration numbers.
Learn & Launch Series
January 6, 2012, DC Empowerment Luncheon
TIME: 11a-2p
The Willard Building
1455 Pennsylvania NW 4th Floor
Washington, DC 20004
Registration: $55 (Registration includes the seminar, lunch and book.)

Complete your registration by securing your spot in this exclusive and informative seminar. Your life will never be the same!
The cost of this seminar is tax deductible.

Register TODAY! Space is limited. Register securely online through PayPal.
The stress of feeling unfulfilled and as if your life is not of value can be a serious detriment to your physical, financial, emotional and spiritual health. But you are not alone in your quest for peace of mind, comfort, and overall well being. God's word will enlighten, inspire and encourage you to keep the faith in your journey toward joy everlasting. Jacquie Hood Martin shares the wisdom of God as revealed through her personal and intimate experiences.
Fulfilled Reading Club: Special Book Purchase by the case for your book club, Center, Foundation, Organization. Don't miss this exceptional value $680 ($340 savings). Books remain $10 per book or $10 per download for Kindle or NOOK or autograph copy online at www.jacquiehood.com.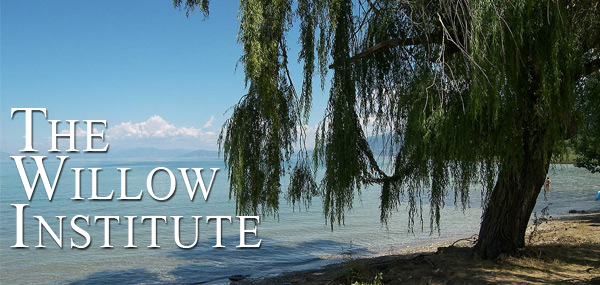 The WILLOW INSTITUTE
 (Women in Leadership Leading Other Women) Power Lunch Series   Join me in the District of Columbia once a month for enriching and engaging sessions that will empower you to reach your full potential in every aspect of your life. More details available in the coming weeks. Be sure to sign up for our weekly e-letter for registration and location information for the months of October, November, and December 2011.
SAVE THE DATE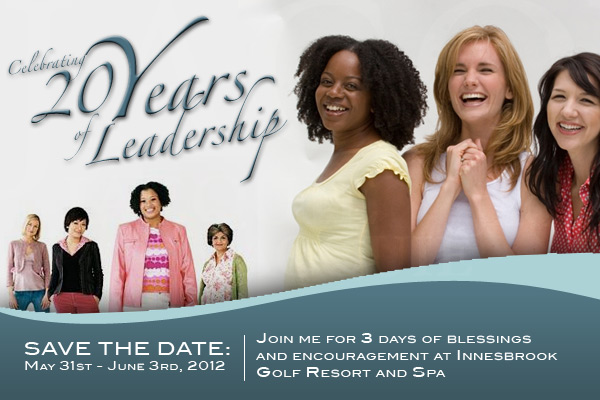 SAVE THE DATE: May 31st – June 3rd, 2012 as I celebrate 20-years in leadership. Join me for 3 days of blessings and encouragement at Innesbrook Golf Resort and Spa.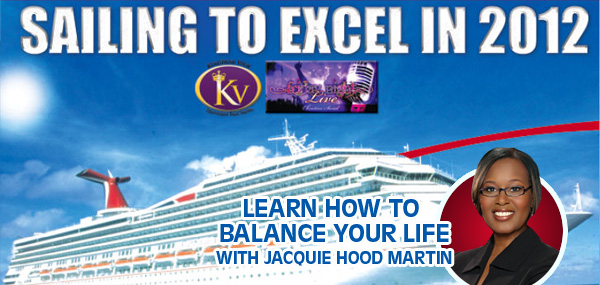 Sailing to Excel in 2012
We have some exciting news for you! As you know, Kingdom View is hosting an Empowerment Cruise 2012 and many of you have already responded and locked your spot.
We wanted to secure 150-200 travelers on the cruise and we are happy to report we have over 75 people already confirmed for the cruise. After speaking with Carnival today, of course they are elated for us to host this cruise with them as we all have many choices of cruise lines and timing of taking our family vacation. I shared with them the importance for Kingdom View to keep this event affordable for our attendees to be able to take a much needed get away for a life changing experience. They were in agreement and asked what they could do to assist us in our goal. We asked for it and Carnival delivered! After securing our first 40 cabins and over another 100 people interested in going on the cruise – We were given an extension on our deposit! December 31, 2011 is the new deposit date. (Glory to God for FAVOR).
REGISTER NOW and Sail to Excel in 2012!
Get ready for an exciting, empowering and fun 4-day cruise to Cozumel from the Port of Galveston in 2012 (November 29 – Dec 3).  You have one full year to plan, pay and go!  We are locking in speakers, coaches and entertainers that will make this cruise a time to remember.  Pastor Keion Henderson will delivery the Worship on the Water Message for Sunday Morning.
We are bringing you the very best of speakers and entertainment, already confirmed for seminars, panel discussion and Kingdom View Television Talk Show:
Pastor Keion Henderson
Jacquie Hood Martin
Andre Johnson
Elder Kiplon Taylor
Charles Potter and more…….
CLICK ON LINK TO SIGN UP! REGISTRATION FORM – ONE PER PERSON When you fill out the online registration form enter Jacquie Hood Martin / J. Hood & Associates in the field that asks where you heard about the cruise.
You will receive a call requesting your method of payment. Don't forget to let them know you learned about this event from Jacquie Hood Martin / J. Hood & Associates.
Coming Soon …
Coaching Memberships: Coming soon! Special offers for webinar coaching opportunities, audio encouragement and empowerment messages, and new Podcast downloads.
SPECIAL OFFER from J. Hood & Associates
Introductory Coaching Offer – 2011-2012, 45-minute session $125
Get your life moving in the right direction in 2012!. REGISTER NOW!
Follow Roland Martin Reports on Twitter
Follow Roland S. Martin's Timeline On Facebook
Get Roland Martin Reports in your inbox!
Sign up for Roland Martin Reports Daily News Update powered by FeedBurner