This week, the NAACP released a report on new voting laws at the state level that will disenfranchise minority voters. The report said 14 states passed measures, quote, "designed to restrict or limit the ballot access of voters of color." As part of that report, the NAACP listed several questions we should all be answering now so we can exercise our hard-won right to vote.
Here're the questions related to the new requirements in some states for a government-issued photo identification: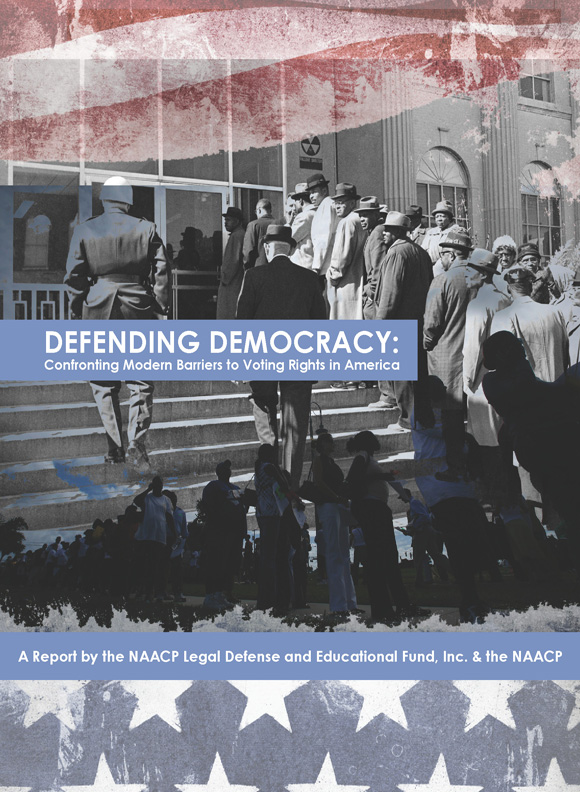 1. Am I registered to vote?
a. If not, where and when can I register to vote, and what must I bring to register?
b. If so, does my voter registration file include my current address? If not, how can I update my address?
2. When is the next election in my city, county, state?
3. When does the voter registration period close for the next election cycle?
4. After I register to vote, how do I verify my registration?
5. If I was convicted of a criminal offense, did I lose my voting rights? If so, how do I apply to have them restored?
6. If I am currently incarcerated awaiting disposition of a criminal charge, am I still eligible to register to vote?
If yes, how do I apply for an absentee ballot?
7. Am I eligible for an absentee ballot? If so, how and when do I request one? When can I cast my absentee vote?
8. Does my state require government-issued photo identification or proof of citizenship to register to vote and/
or to vote?
a. If so, which forms of identification are acceptable?
b. If the form of identification I have is not acceptable, where can I obtain an acceptable one?
c. What documents do I need to get the required identification?
d. Is it free? If not, can I apply for a fee waiver? Note that many offices wait for you to ask for a fee waiver,
and will not offer it themselves, even though you may be entitled to one.
9. Does my state offer early voting? If so, what is the early voting period, and where do I cast my early vote?
10. If I am voting in person on Election Day, where is my polling place? What if I moved since I last voted?
If you are not sure of the answers, then find out from your local board of elections well in advance of Election Day. The Board of Elections in your city/county, and your Secretary of State, must have the answers to each of these important questions.
DOWNLOAD DEFENDING DEMOCRACY: Confronting Modern Barriers to Voting Rights in America
Follow Roland Martin Reports on Twitter
Follow Roland S. Martin's Timeline On Facebook
Get Roland Martin Reports in your inbox!
Sign up for Roland Martin Reports Daily News Update powered by FeedBurner